If you want to offer your candidates particularly good services, you should know exactly the needs and wishes of the target group and adapt your offer accordingly. In order to be able to take this step, the HR experts of HR Consult Group AG conducted a candidate survey - in which more than 10,000 participants responded - to investigate, among other things, which services candidates place particular value on.
The top answers are no surprise: At 93 per cent, almost all candidates expect new professional offers from recruiters. Three quarters of the respondents assume that their profile will be actively marketed by the recruitment agency and brought to the attention of potential employers. A personal interview with a consultant is seen by a similar number of participants, 72 percent, as a fixed component of the process. This is primarily about individual service and the creation of a basis of trust.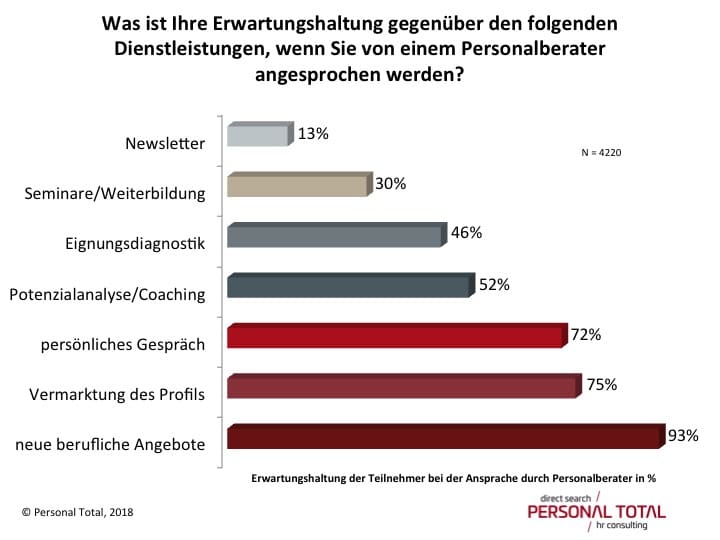 More than half expect an aptitude diagnostic procedure / a potential analysis 
In 4th and 5th place in the ranking come coaching and an analysis of potential with a total of 52 per cent and aptitude diagnostics with 46 per cent. Both procedures aim to work out the strengths and weaknesses of the candidate and thus possibly identify completely new professional focuses and career perspectives. 
"The candidates' primary expectations of a recruitment consultancy are quite clear. We are supposed to help them find a job and that is exactly what we do. It is interesting, however, that the survey participants obviously attach great importance to a personal and individual exchange. As personnel consultants, we welcome this very much, because through direct and personal contact, wishes and goals can be defined faster, better and more clearly. Supplemented by the available analysis procedures, we can thus find the right job and the right employer for the respective applicant very efficiently and precisely," explains Mr Lars Osmers, personnel consultant at Personal Total.